Indonesia lies at the intersection of the Ring of Fire and the Alpide belt. This area is well known for its volcanic activities and a huge amount of earthquakes each year. A slightly dangerous place but a wonderful and beautiful place as well.
There are several places, that took my breath away, places like Cinque Terre in Italy, Machu Picchu in Peru or the Atacama Desert in Chile, countries like New Zealand or Australia and cities like Barcelona and Prague. Still I have to say that my trip to the area around Malang in Indonesia might be the coolest adventure I did so far.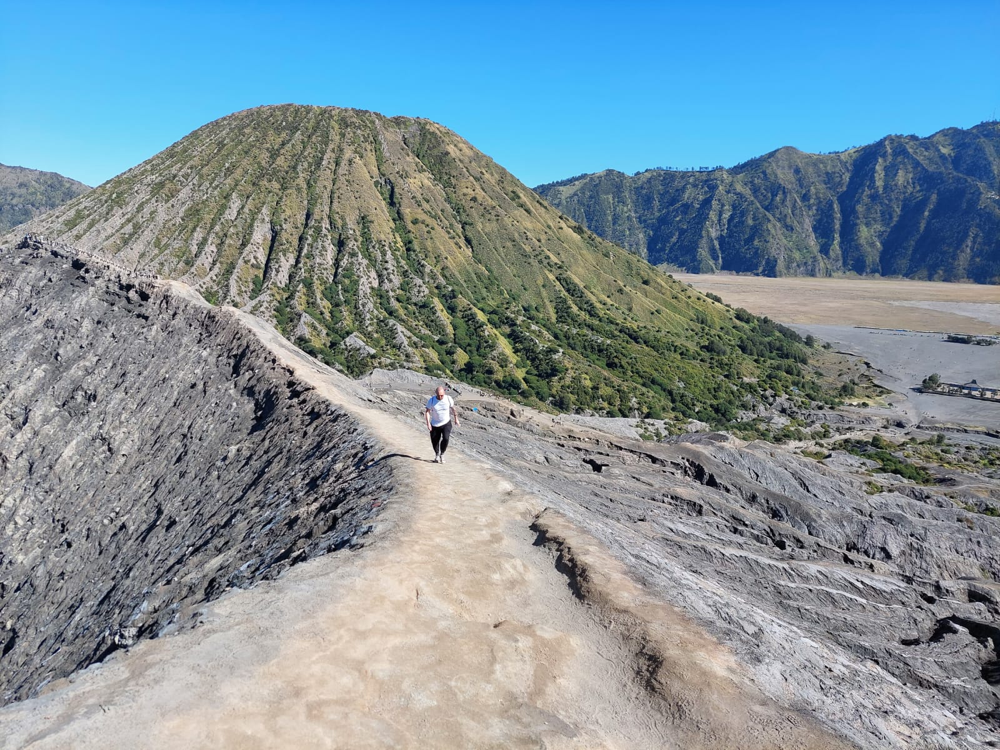 Malang is a city on the island of Java in the Jawa Timur area. There are two preferred ways to get there. Either you fly into Jakarta, the capital of Indonesia and one of the craziest cities in the world or you cross the Java sea from Bali island to Java.
My way took me from landing in Jakarta and spending some time there to taking trains via Yogyakarta. Java is an enormously big island. I have to say I underestimated the size when I planed the trip. Going from the capital Jakarta to Yogyakarta already took about 8 hours by train. After another 5-6 hours on a night train we arrived in Malang. The city itself has not that much to offer. There are the colorful villages a little outside of town, several food markets and there is this wonderful collection of old Dutch and Indonesian stuff which happened to be inside of the our hotel. 
The days before going to Malang where kind of hard. A lot of traveling, not much sleep and some health problems really almost broke me. So I decided to get some good sleep in a very fancy and nice hotel. Absolutely overpriced and blew the travel budget for an Indo-Trip but it was worth every penny! The Tugu Malang right in the city center is definitely a place you want to stay when in town. Of course there are tons of hostels and cheaper hotels, but at this time I just needed to get some european standards and sleep in a good bed for at least 10 hours.
The days before I got to the big attractions around Malang we spent some time at the colorful villages and the nearby rice fields which are as wonderful as those in Vietnam. We lent a scooter and where on the road the whole day. The traffic is horrible but when you reach your destination you will be rewarded with some stunning views.
2 really big attractions make Malang a place you want to go. The active volcanoes, especially Mt. Bromo and the gigantic waterfall Tumpak Sewu.
Unfortunately it is kind of hard to get a tour easily. There are 3 ways to do these 2 places. One, rent a motorbike and do it on your own. Probably for Bromo not the best idea because you want to be there before sunrise, so you might have get up at 2 in the morning. Other possibility is to book it in your hotel which is very expensive, so not really attraktiv either. I was just asking around in town for a private tour. There you get the chance to negotiate the prices and manage your trip just as you wish. 
We paid 60 Euro for the whole car for the whole day - 30 Euro per person is a really fair price for what you are about to see.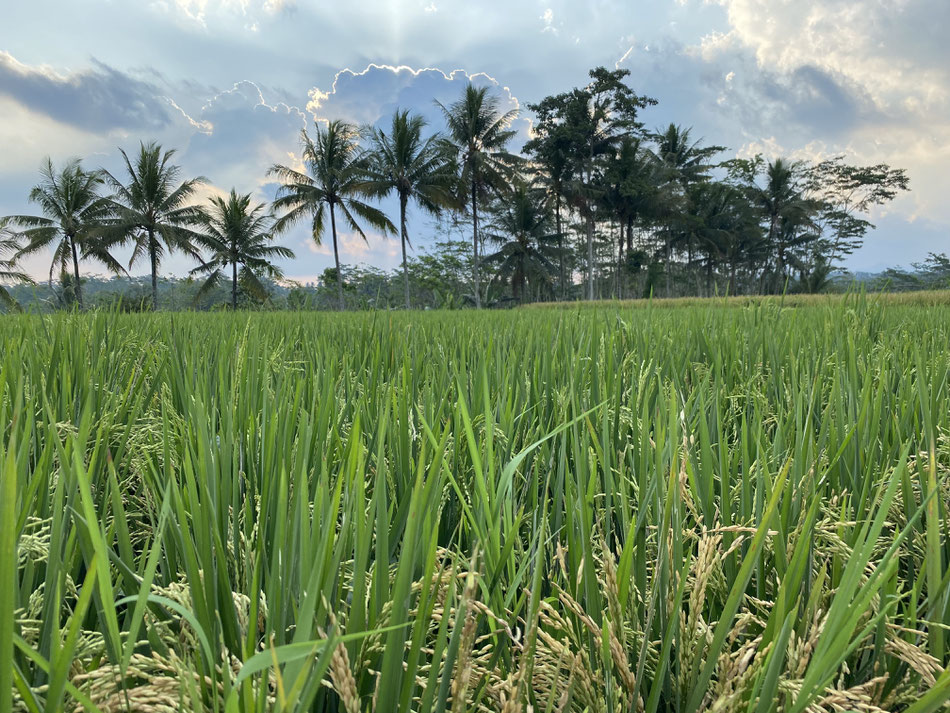 gunung bromo - mount bromo
Bromo is one of many active volcanoes in the Tengger Semeru National Park west of Malang. It's a round about 2,500 meter high somma volanco with a very unique shape. If you are in the right spot you get the change to see Bromo with 3 other volcanoes in the back. Especially at sunrise, this this view is a once in a lifetime experience. 
Around 1 in the morning we got picked up at our hotel in Malang and hopped in the 4x4 off-roader. The driver was a young guy wanting to earn some money. I don't really know how he got the job - this was no official tour, he just picked us up and drove us around. Don't let anyone tell you that you can just go there with a tour provider! Everyone can drive to the National Park. At around 2:30 we arrived at the "Basecamp". It was freaking cold but they offered tea and coffee so this made it a bit easier. 
At about 3:30 everyone was getting nervous and rushing up the 10 minute walk to the platform. We heard that sunrise is at around 5 in the morning and we didn't want to sit another one and a half hours on a cold stone just to be in front row. We met this guy who was sitting with some locals around a fire pit, so we decided to spend the rest of the night around the fire talking to the locals. Five o'clock the guys told us we should get going cause sun is coming up. I walked up the platform seeing people being pissed, cause they where sitting in the cold dark for 2 hours (use your brain when traveling!). I walked up, warmed up from the fire, got to the first row and had the view of my lifetime.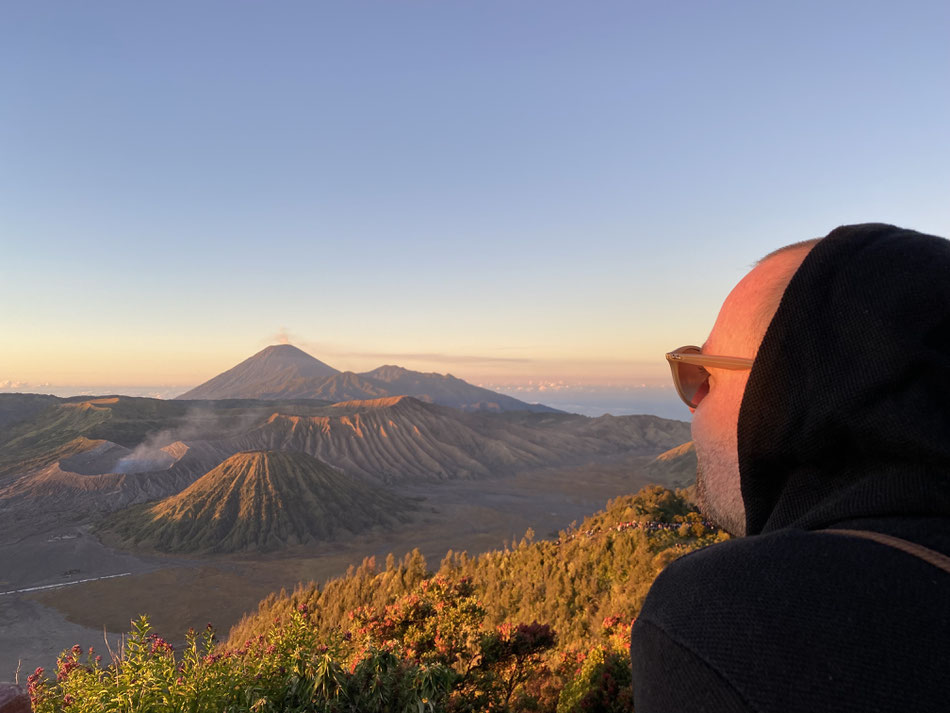 Time flies if you watch this natural spectacle. As I mentioned earlier, sun rises at around 5am, after two hours of just looking at the volcanoes and feeling happy we got back to our 4x4 at around 7am and started the drive down to the desert to see Mount Bromo up close. The area around Tengger Semeru National Park is just unreal. Sand, gravel and wide open space is all you see.
climbing a volcano
After a short ride we arrived down on the foot of Mount Bromo. Down there you realize what an enormous area this National Park really is. Locals offer the opportunity to hop on horses or donkeys to get to the top of the crater. Thanks, but no thanks! Of course some assholes let there fat asses carry up by these poor animals - we decided to do it the healthy way and man that was exhausting.

When reaching the summit you are right on the edge of Mount Bromos crater and you stare directly into the active volcano. What a view up there. We did some photos and walked up the edge before starting our way back down again.

What a day, this tour pays of for sure. Every penny worth it - make sure to tip your drivers generously. Always remember, a small amount for western tourists can make an Indonesian family very happy.

On our way back to the hotel we negotiated for our next day trip. As I mentioned before, there is another big attraction to be visit when in Malang. The Tumpak Sewu Waterfall (which translets as: the thousand waterfalls) with its 120 meter drop.
tumpak sewu - the thousend waterfalls
The next day, again we get a wake up call really early. The driver sending a picture of him and his friend waiting in front of the hotel. We hop in the 4x4 and off we go. The way from Malang to the waterfall is only 70 kilometers but for everyone who already has been in Asia it's clear that this is not to be done in the same time as you can do it in Europe or the US. It took us almost two and a half hours to get to the National Park.
On our way we had very nice conversations with the driver and his friend he brought, who was an absolute expert and knows pretty much every small secret about Tumpak Sewu. I really recommend doing this trip with someone who knows the area well and can show you all the spots where you can get super cool pictures and most important climb a safe way.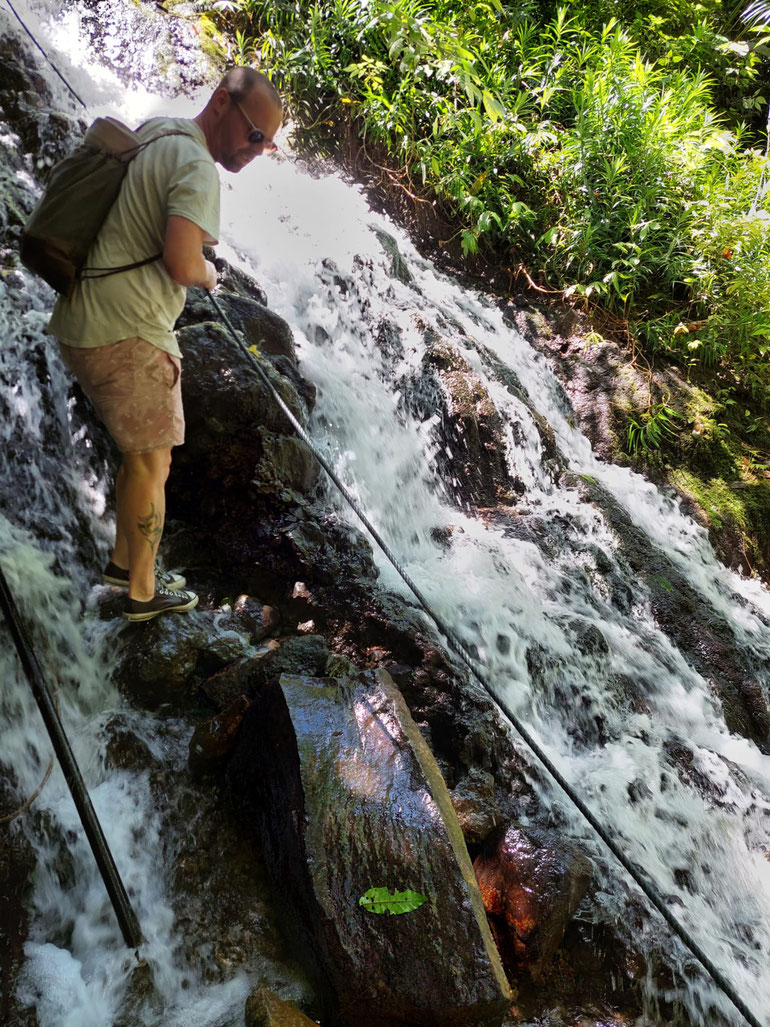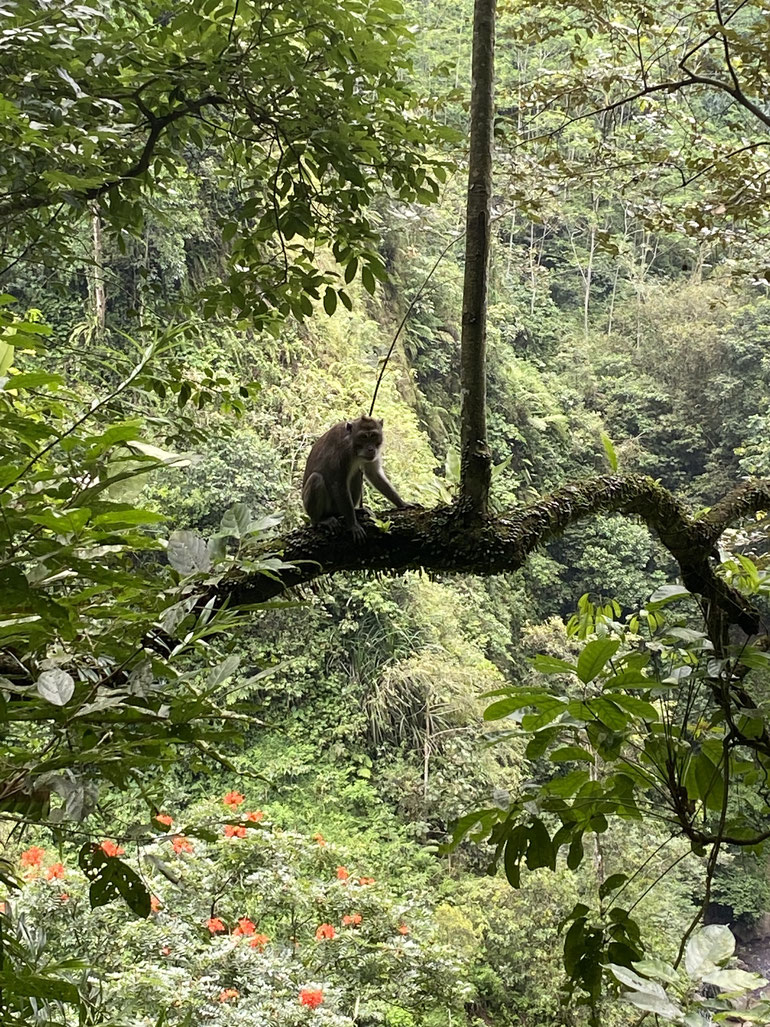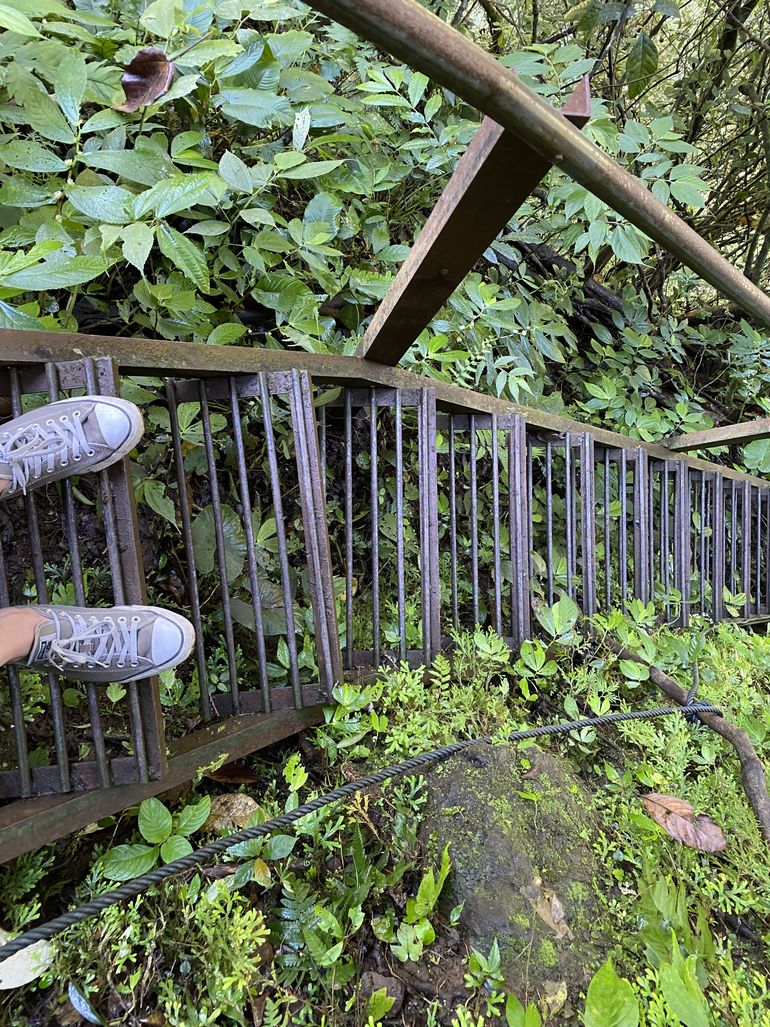 They told us to be ready to get wet and I thought: "Yeah i was expecting to get my things wet don't worry!" Trust me - you will get soaked, so make sure to bring waterproof stuff with you. On your to way the main waterfall you will climb down a smaller waterfall, clime up a waterfall - and cross a river by walking through the river. Guys I tell you this day was a lot of fun and the four of us where laughing continuously.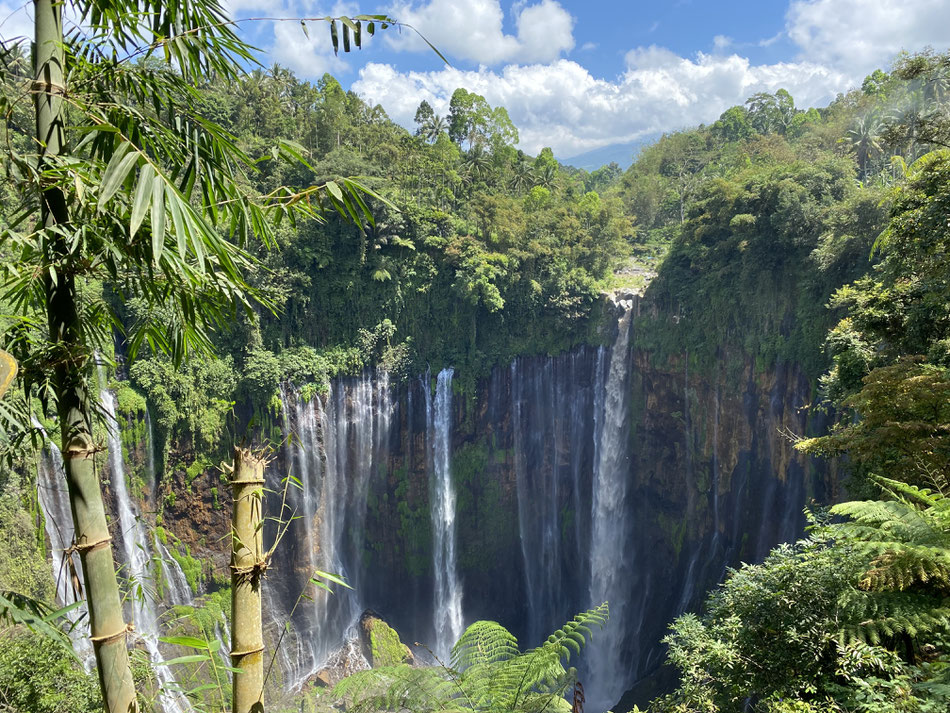 The boys took us all the way down the rainforest to the bottom of the waterfall area. From there the hike started. I got wet and had a gigantic smile on my face - My Indo trip was really exhausting the last days, now it feels like I finally arrived in the adventure I was searching for.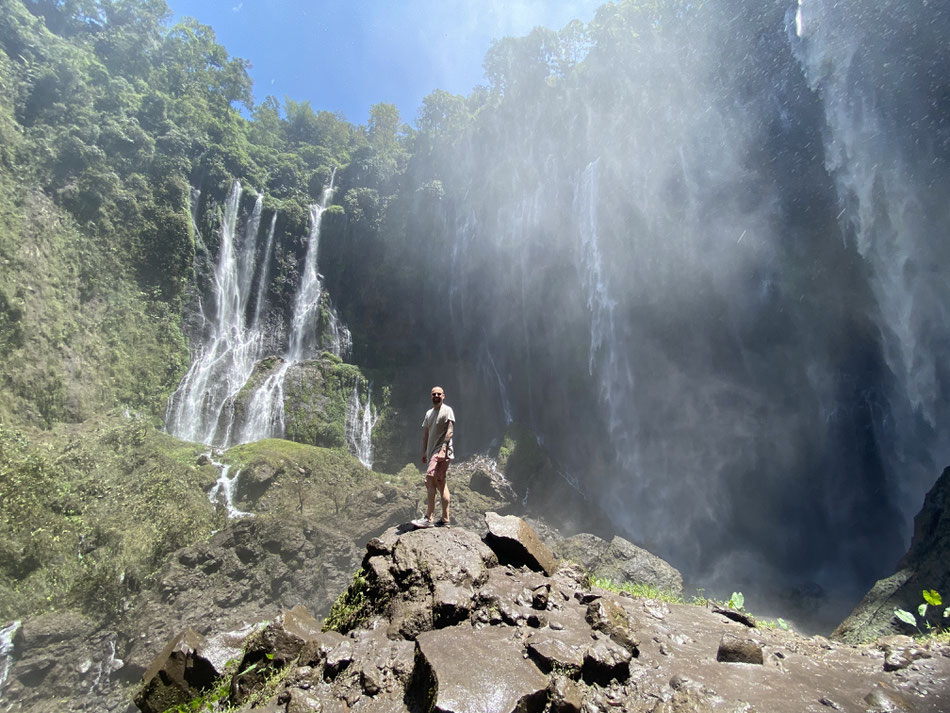 5 things you don't wanna miss
Rent a scooter and explore the area around Malang
Have dinner in the Tugu Hotel Central Malang
Visit the colorful villages and help out the locals with some tips
Climb down Tumpak Sewu Waterfall
Enjoy the most beautiful sunrise at Mount Bromo