When you are going to Chile, there are two nature sights everyone is heading to. Patagonia and the Atacama desert. Unfortunately I didn't find time to go down to Patagonia to see Torres del Paine. I went up north to see the unreal place San Pedro. A small town in the middle of nowhere, surrounded by one of the driest deserts in the world.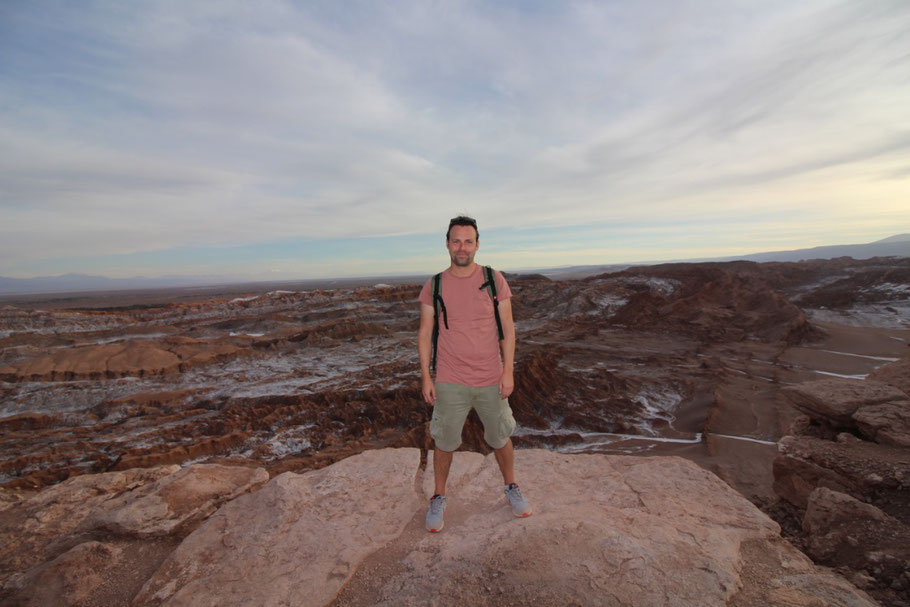 I flew in from Rio de Janeiro to Santiago. After spending a few days in the capital of Chile, it took me 4 full days on the bus to go to San Pedro. Yes this country is huge. Actually there is a bus going directly from Santiago de Chile to San Pedro de Atacama. It's a 1.700 kilometer journey and it takes over 24 hours. I really like taking busses but this was just too much. If you are searching for an easy way to get from one place to another use the TurBus App. You'll find wifi pretty much everywhere and this App makes booking busses all over Chile very comfortable. The busses are leaving frequently so you'll have no problem to get from one city to another.
My first stop on my journey took me to Valparaiso. With its artwork and graffiti all over the town, this little place is something special. It's a paradise for photographers and it's filled with a lot of wonderful restaurants and little bars. You have to go there! Grab a beer and enjoy the sunset while watching huge container ships pass by.
The next 1,700 kilometers up north of Chile were pretty much pure nothing. Stones and sand is all you gonna see all day  and when I say nothing I mean absolutely nothing. You can feel the silence, driving through the desert. I did 3 stopovers, La Serena, Copiapo and Antofagasta. Non of these cities are worth staying longer than one night. 
arriving in san pedro de atacama
I stayed in a hostel called Siete Colores, the host Gustavo is one of a kind! Highly recommended. San Pedro is hot as hell and there is a good reason for that. In average it rains once a year, so water is really something you have to look after. Taking showers after a hot day in the sun is luxury. The city is surrounded by 5.000 to 6.000 meter high mountains. It is one crazy feeling standing in the middle of the desert, sweating like there is no tomorrow and looking at mountains covered with snow. 
valle de la luna
They offer several tours in San Pedro de Atacama. You can take a bike into the desert, go sandboarding, go horseback riding, see geysers up on 5,000 meters or go to Valle de la luna (the valley of the moon). 
I decided to spend the first day in Valle de la luna. It's like walking on an other planet. Actually there are no words to describe the feeling you get, sitting on a sand dune and staring into the pure nothing of the desert. The sun sets and on the other side the moon is rising high, lighting up the mountains of the Andes. The whole valley is turning yellow, red and orange. One unforgettable experience and by far one of the most wonderful places I've seen on my trips. 
San Pedro the Atacama offers a lot of little restaurants. The fact that this town is in the desert, makes it kind of hard to get what you looking for on the menu. They often run out of some ingredients but the waiters and owners will always be super friendly and show you some alternatives. I really loved the La Pica del Perron and the Italian place at main square (awesome Pizza).
reaching my elevation level on el tatio
Only about 4,000 people live in the town which is 2,400 meters above sea level. The highest I ever went was about 2,500 meters. My second journey in the Atacama desert took me to El Tatio. The highest  and one of the biggest geyser field in the world, close to the bolivian border. On my way up the bus reached 5,100 meters above sea level. That literally took my breath away. They told me to eat coca leaves and drink a lot of water, I did but still my body was not feeling all good up there. But the nature made all of this worth it. Take the early busses at 4am, so you'll be up at sunrise. It was cold as ice up there and you will be happy to hang your feet in the hot springs when arriving on top of El Tatio. On your way back to San Pedro you'll see flamingos, llamas and alpacas while driving next to huge fields of cacti. Out of this world!
As soon as you go back down, your body will start feeling normal again. Still you should drink a lot of water and maybe skip the party the day before you go up to El Tatio. Back in town you will find a lot of backpackers from all over the world. San Pedro is like an airport, nobody is staying very long, everyone is just arriving or about to leave. A perfect spot to find other travelers and share experiences or expectations about Salar de Uyuni, Macchu Picchu or Torres del Paine. It is a wonderful feeling to know, that after this amazing trip into the desert of Chile, your next trip will take you to another crazy nature sight in South America. 
5 things you don't wanna miss
Go up El Tatio early in the morning
Enjoy a sunset in Valle de la luna
Explore San Pedro by foot
Buy some cloth made of alpaca wool (warm as hell)
Enjoy the nightlife with a lot of backpackers from all around the world