Do you know this feeling while traveling, when you see something you only knew from pictures, TV or the internet? You have this "Wow-I'm-really-here-moment".  I had these moments, when I saw the Opera House in Sydney, the Golden Gate Bridge in San Francisco or the hills of Macchu Picchu in Peru. I got it lately when I drove from Marina di Pisa to Pisa downtown and first saw the tip of the leaning tower. I caught my self smiling while fighting through the crazy traffic in Italy.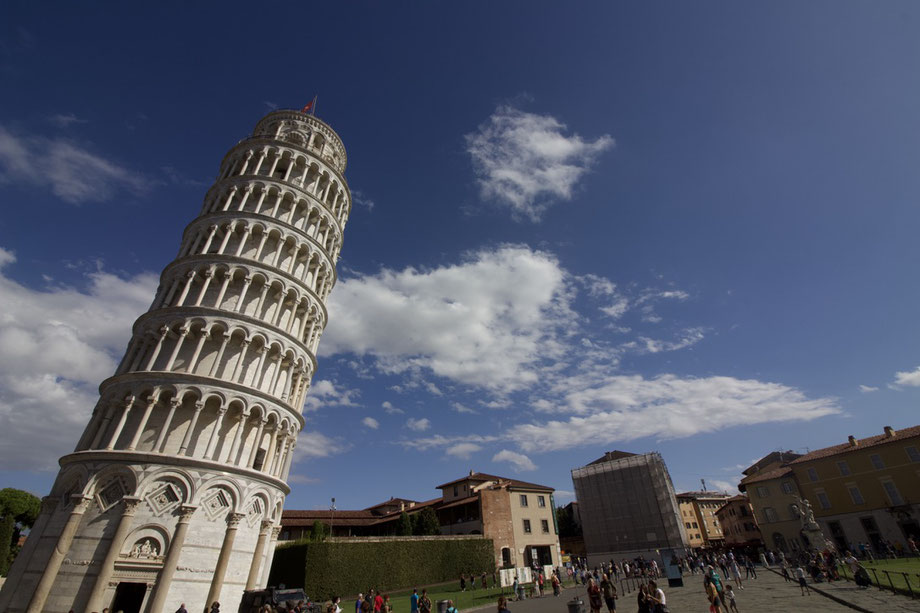 pisa or marina di pisa
Pisa itself is not really a place you want to stay. Still the prices for accommodations are crazy high. I found out about a place called Marina di Pisa which sounds like it is the harbor of the city but infact it is a total other city about 12 kilometers away from Pisa. The prices there are still high, but at least you can stay at the Riviera and have a wonderful walk on the beach after dinner.
The town it self is not big, there are few nice restaurants and bars at oceanside where you can have a drink and enjoy a beautiful sunset. All in all i would recommend 2 nights in Marina di Pisa including a trip to Pisa downtown.
the leaning tower of pisa
Parking is always an issue in Italy and so it is in Pisa. I found a quite cheap spot near the leaning tower called "Parking via piave". 12 bugs is a fair rate for the whole day (which you will not need - I recommend 3-4 hours). You can already see the tower from the parking lot so the walk to Piazza del Duomo is about 5 minutes. I think 2021  was quite a good year to visit bigger cities in Italy. Sure, there were tons of people but still it was not as bad as I thought it would be.
It is kind of funny to see all the people trying to get the perfect picture all around the tower. Everyone is trying to "lean" next to the tower or "hold it" with their feed or hands. I recommend to get to Pisa at about 4 pm - after 4 a lot of tourist buses are gone and you will find time for your perfect picture. 
Forget all the pizza places and tourist spots for lunch - there is a place called L'Ostellino, which offers the best god damn sandwiches you well find in Italy. Do not miss this place!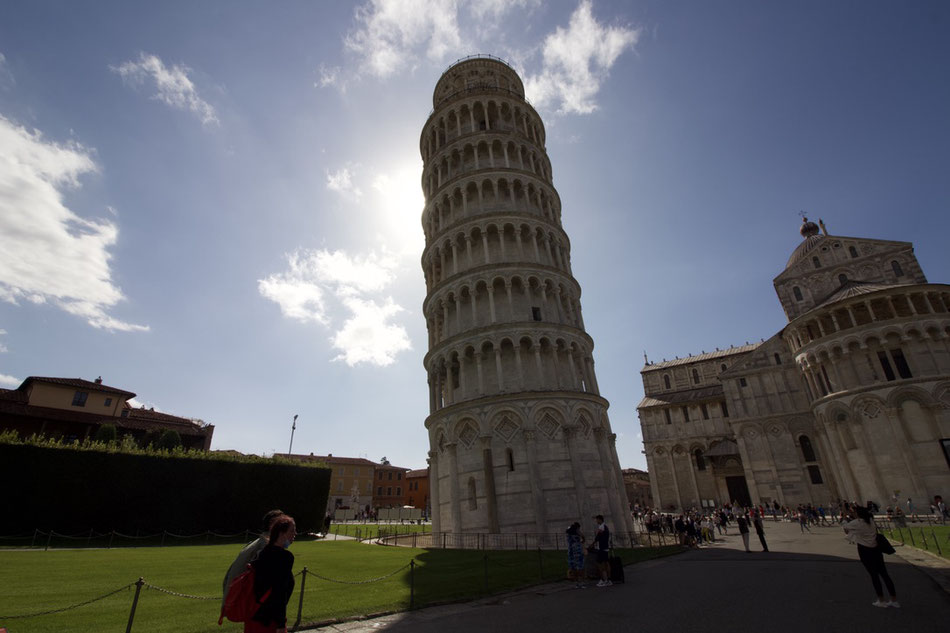 getting to la spezia and cinque terre
Cinque Terre is one of the most visited places in Italy and according to a lot of travel magazines one of the most beautiful places in the world. After visiting this place I can say, this is absolutely true! But I'll get to this later. First, what is the best way to go there?
There are several options. I would actually not recommend driving to one of the five towns, it is possible but I guess parking is a pain in the ass. There are several parking lots in La Spezia. The most popular one is of course right next to the train station from where it is pretty easy to reach the 5 towns. The parking situation is really tricky, there are so much people going to Cinque Terre every day, so if you want to get a spot in the parking garage next to the train station you have to be there early - and I mean really early!
We arrived at noon and there was absolutely no chance to get a spot in the garage. After searching for more than an hour we finally found a spot on the side of the street where we left the car. Parking in the garage is 32 EUR per day (prices 2021), parking on the side of the street 18 EUR per day. After driving around in the heat, we were about to pay pretty much every price just to get rid of the car.
When you make it to the train station make sure to buy a combi-ticket for one or two days, depending on how long you stay. You pay 4 EUR for every train ride and I guarantee you, you will do a lot of train rides, so you might want to get the 16 EUR full day ticket and you are ready to go.
riomaggiore
The first little town on the railway is Riomaggiore. A wonderful little place with about 1,500 residents and about 2.5 million visitors every year. I got lucky, since the Covid pandemic was still ongoing in 2021, there were by far not that much tourists in Riomaggiore as in a "regular" year. I absolutely loved this place. We found a perfect little apartment right next to the ocean called "Il Rifugio sul mare" with a stunning view on the colorful houses and the ocean it self.
The place is packed with small little boutiques, nice cafes and restaurants. If you're looking for dinner you might want to do a reservation early the same day, the restaurants get quit busy in the evening. All in all it is a wonderful little town with tons of beautiful photo spots. Make sure to be there very early or in the evening so can enjoy the sunrise or sunset, which both are incredible.
Two options to get to the next village called Manarola. There is a hiking path  which takes about 1 hour or you hop on the train and arrive 3 minutes later. Lazy as I'm, I choose option two, which gives you another stunning view on the Ligurian sea.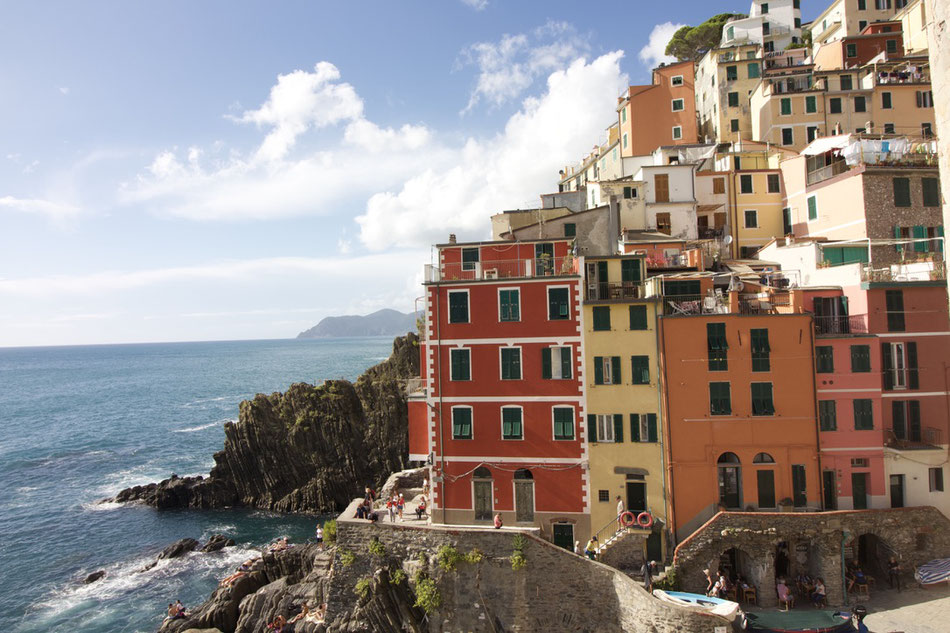 manarola
This is another stunning photo spot especially in the afternoon when the sun starts to slowly set down to the ocean. 
Years ago this place was full of fishermen, today tourism of course is the main source of income for this little place. You find heaps of shops for tourists on the main road "Via Belvedere" and yes, it is a "belvedere" -> a wonderful view is waiting for you when you  reach the top of the rocks around the shore of Manarola. 
Make sure to be there about one hour before sunset. When the light is really strong and red, the houses on the shore look like they are turning into a gigantic painting.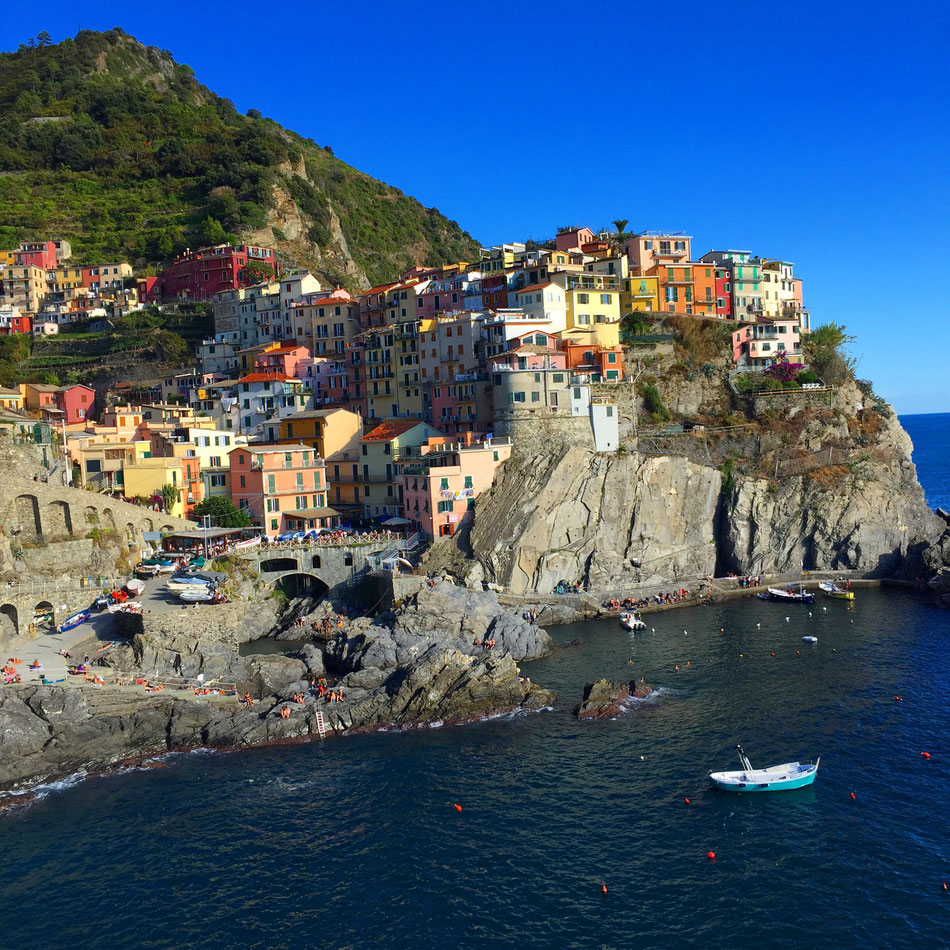 corniglia
Somehow one of my favorites, although there is not much to see. When arriving at the train station, you can either choose between walking up the hill in the heat or taking an about 5 minutes bus drive right up to the city gates. Guess what I did?  Yes, took the bus! 
Up there you find some wonderful narrow streets which lead you into a maze of small little restaurants, bars, coffee shops and shops selling all kind of touristic stuff. I somehow loved it there. I took a break at one of the cool little bars and had a glass of wine before I walked up to the observation deck. This view will blow you away - maybe one of my best moments while in Italy - don't miss this place.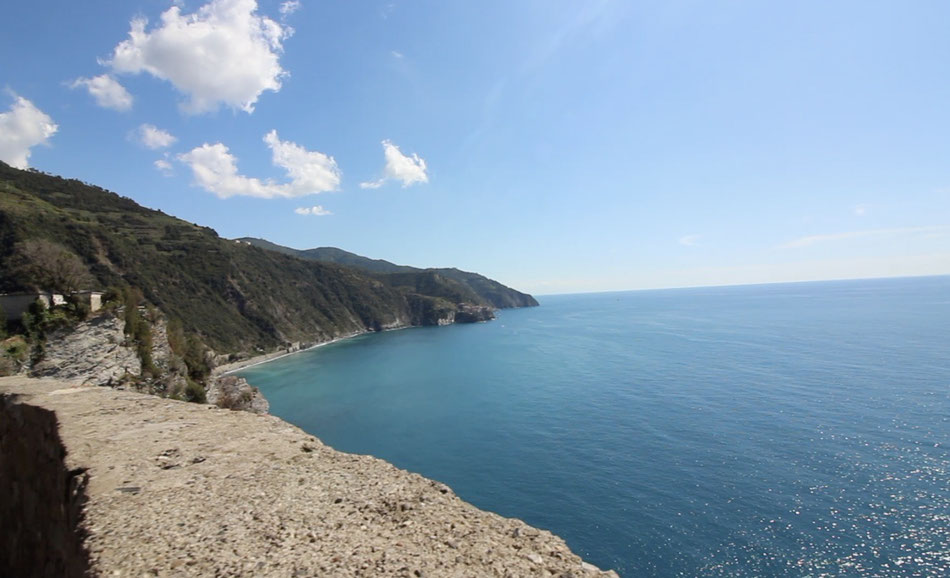 vernazza
For me this place had the most beautiful "harbor". There are several good photo spots because this harbor is formed in an L-shape which gives you the chance to get some good shots of the colorful houses. You can relax at one of the few cafes right next to the ocean which makes this place kind of special. 
There are several hiking tracks up the pretty steep hills around this little town, which gives you another good opportunity for some pictures to remember.
monterosso al mare
I have to say, you can skip this place.  I couldn't find anything special in Monterosso al mare. There are tons of people hanging out at the beach, it's crowded its loud it's like being in "tourist-hell"! You better use you time for the other four villages.
how i traveled cinque terre...
I don't want to sound conceited but I think I found a good way to avoid to much tourists on your trip to Cinque Terre. The train is coming from La Specia going:  Riomaggiore - Manarola - Corniglia - Vernazza - Monterosso. So most of the tourists hop off the train in the morning at the first station which is Riomaggiore and than do go station for station, because people are dumb! You might want to go Corniglia first, cause this place is up a hill and it won't be that hot in the morning while walking up. After that, go to Vernazza and Monterosso. While all the tourists are now leaving Manarola and Riomaggiore you go all the way back to Riomaggiore for a drink or some food and make sure to be in Manarola, which would be your last stop, for sunset, cause like I said before this place is turning into a wonderful scenery when the sun hits the ocean.
5 things you don't wanna miss
Take one of the several hiking tracks up the hills of Vernazza
Make sure to be in Manarola at sunset
Enjoy the sunrise in Riomaggiore
Have a glass of wine in Corniglia and enjoy the view on the observation deck
Enjoy some seafood on the beach in Marina di Pisa after a trip to the leaning tower