I checked the hostel and hotel prices in Sydney down town online, before I arrived. Well those prices didn't really make me happy. Sydney is expensive! But I got lucky and found a pretty cool Tavern a little outside of the city. I took the bus into town which was kind of annoying but saved a lot of money. I recommend searching for little Taverns outside of the city for your stay in Sydney. They are cheap and beside breakfast you sometimes get some good beer-deals with your room price. Next you wanna get an "Opal-Card". You can get these cards in pretty much every grocery store all over New South Wales. There is no chance to pay cash in any bus or train in Sydney so make sure to upload some money on your card and you are ready to go.
I spent 2 month in Australia thereof only 4 days in Sydney. Which was I guess just the right time to get to know the city a little bit. I was kind of in a rush and wanted to see as much as possible of this huge country. I would definitely recommend staying longer in this amazing town on the pacific coast.
having breakfast in the rocks
I started my journey around town by having breakfast in "The Rocks". It's the historic destrict right next to Circular Quay. The redbrick houses all around this area make this location a place you want to visit. I recommend "The Rocks Cafe" I loved the eggs benedict there. After a rich breakfast I started my tour through the city. "The Rocks" is a perfect spot to get on the Harbour Bridge. Just take the pedestrian walkway on the eastern side to get a stunning view over the whole harbour.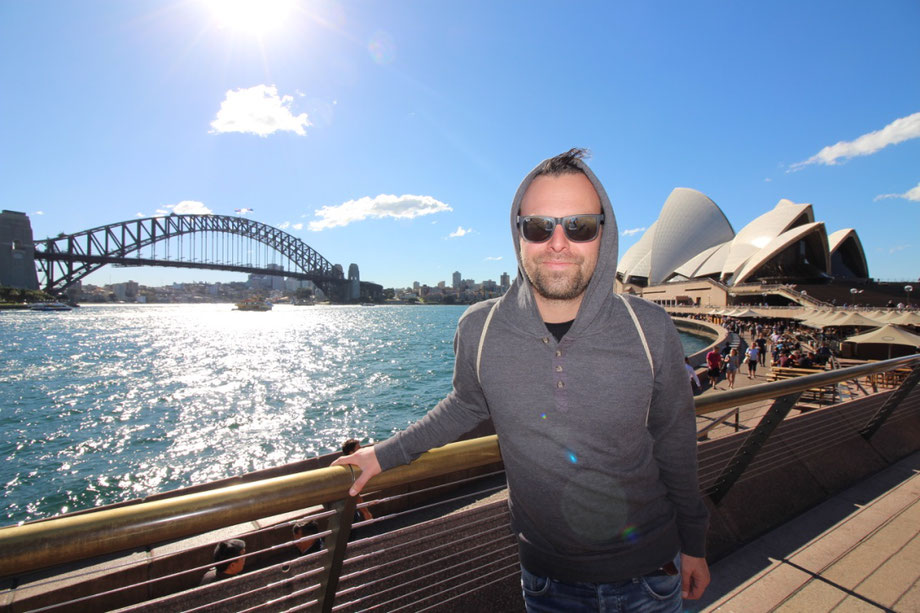 next stop circular quay
It's kind of a weird feeling. As a guy, born in Austria, Australia always felt like literally on the other end of the world, unreachable. Now I'm here. The sun is shining between the Harbour Bridge and the famous Opera House and your mouth is turning into one big grin as you realize: "Hey I really made my way down here!" Circular Quay is packed with tourists from all over the world. It's kind of hard to find a perfect spot for a photo without people in the background. Still it is a special place and even more wonderful when the sun hits the white shell-shaped roof of the Opera House. Grab a coffee in on of the countless restaurants at the Quey, have a seat and enjoy this special moment.
City, ocean and green fields
Every city next to the ocean is something special to me. I love big cities and those with sea access are the most beautiful to me. That's why Lima, San Francisco, Rio de Janeiro, Cape Town, Singapour Sydney are definitely on of my favourite cities ever. Sydney is a perfect connex between: big city life, beach feeling and nature. What brings me to the next spot you don't want to miss when you are down under. The Royal Botanic Garden. This 30 hectares of pure nature, right next to Opera House, gives you the opportunity to relax your feet from walking around all day. You have a wonderful view on the skyline and it's packed with great photospots.
Continue your trip into the center of the city to see some historic buildings or go up high on 300 meters on "The Sydney Tower Eye". The entrence fee for the tower was 20 Australian Dollars (I actually skipped it because the view from the Harbour Bridge was stunning and for free). Buildings in the inner city you don't want to miss are: Saint Mary's Cathedral, St. James Church, the Sydney Town Hall and the Queen Victoria Building. If you have enough time you can easily spend a whole day just in the city center.
darling harbour for lunch or dinner
From the city center you can walk through the "Chinese garden of friendship" (free entrence) and relax before you go see another wonderful sight of this amazing city. Darling Harbour is offering a lot of international and local restaurants and gives you again a stunning view on the skyline. You can watch boats and ships come and go and enjoy a nice cold beer in the sun. One of my favourite places.
grab your swimsuit and get to bondi beach
Most of the tourists get a rental car to go up and down the east coast of Australia. If you don't have a rental car yet and you are dependent on public transport, there are several busses to get out of town. Busses to Bondi are leaving Circular Quay frequently. Jump on bus No. 333 or 380 and 45 minutes later you'll be walking on a wonderful beach.
There are several Beaches around Sydney. Milk Beach, Manly Beach, Lady Bay Beach and many more. Bondi Beach is probably the most popular beach near Sydney, certainly the most crowded. Make sure to get there early in the morning or late afternoon. 
There a some cool shops, tattoo studios, surf shops,  tiny boutiques and restaurant where you can find amazing seafood and burgers. 
5 things you don't wanna miss
Enjoy the view over the whole harbour from the top of the Harbour Bridge.
Spend at least on day at Bondi beach. Maybe even try surfing.
Walk through the old town at "The Rocks" and enjoy great local and internation food.
Relax at "The Royal Botanic Garden"
Take some great pictures of the Skyline of Sydney while sitting at Darling Harbour