Landing on Antônio Carlos Jobim Airport is already giving you goosebumps, caused by two reasons: While the aircraft is circling the city, you can already see all the beautiful sights you are about to discover the next few days. Cristo Redentor, the Sugarloaf, the streets of Ipanema and of course the beautiful shape of the Copacapana beach. On the other hand, you'll see one of the shortest airport runways you have ever seen. So fasten your seatbelt, cause Rio de Janeiro is a hell of a crazy city.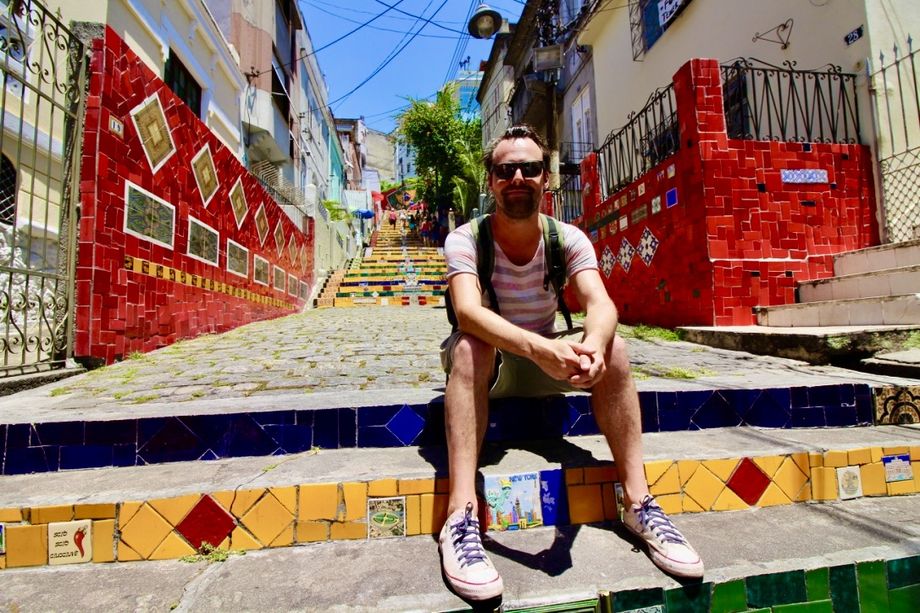 where to stay ?
I don't know what type of traveler you are - but if you're on a low budget trip, backpacking around South America I can definitely recommend the hostels in Rio. I stayed at Botafogo district in a place called Injoy Hostel. This place was just awesome, nice staff, very modern and clean rooms and a nice breakfast. The Subway station is nearby so you can reach every other district within minutes. Of course there are tons of luxury hotels near the wonderful beaches but you'll experience the real life of the Cariocas (name for people from Rio) in the center of the city.
I stayed 12 days in Rio and I have to tell you - I wish these days would never have ended. I would recommend at least 10 days or longer to get to know the whole city.
sightseeing in the coastal metropolis
This city is crowded all year round. 6 million residents and another 3 million are traveling to the Pão de Açúcar every year. Don't think, you'll be alone in any place at any time. If you start your day early enough you can find some tourist attractions less crowded.
You might start your day with a hike or trip up to Cristo Redentor. If you wanna walk up Corcovado the best way is probably the
Trilha Parque Lage to Corcovado. This hike will take you at least 2 hours and will make you sweat! Rio is freaking hot. I usually don't get problems with my circulation system but Rio almost killed me. So since I'm a lazy bastard, I took the cog railway up to see Jesus. When I got to the station "Trem do Corcovado" located at Rua Cosme Velho 513, only a few people where waiting in line. I got the ticket right at the station, the fee was probably about 10 to 12 Euro, kind of expensive for Rio but a fair price to see one of the new seven wonders of the world. You can also get your ticket online a few days earlier on the Trem do Corcovado page. The problem is you'll never know what the weather will be and you definitely wanna visit Cristo Redentor on a clear sunny day.
If you are lucky as I was and you get the first ride of the day up to Cristo Redentor, make sure to take as much pictures as possible as soon as you arrive on Corcovado. Only a few minutes later the next train will arrive and this one will be packed. More and more people will enter the plateau and you'll feel a little uncomfortable. So the best thing you can do is to take some pictures of the 30 meter high statue itself when arriving and then enjoy the view all over Rio de Janeiro the rest of the time you are on Corcovado. 
the view down from pão de açúcar
Pão de Açúcar, the Sugarloaf is probably the most famous landmark in Rio. Therefore it is pretty much as crowded as Corcovado. On the other hand it is a place you definitely don't want to miss when in Rio and you definitely want to cross off from your travel bucket list. Located on the mouth of Guanabara Bay on a peninsula that juts out into the Atlantic Ocean you'll find this impressive 395 meter high mountain. Again you can choose between a hike up the mountain called "Trilha do Morro da Urca" and a wonderful gondola ride. Guess what I did? Right!
You'll find the gondola station "Estación Teleférico Pan de Azucar" in the Leme district next to Copacabana. No matter how long the queue may be and no matter how pricey this is gonna get, the trip up to Sugarloaf is an experience you will not forget.
You'll do 2 gondola rides to reach the top of Pão de Açúcar. First you go up to Morro da Urca, the smaller of the two mountains. The second ride is taking you up to 395 meters. Once you are up there you'll get another wonderful view over Rio. This time from the opposite side, by then at the latest you will fall in love with this city. On one side you'll see the huge harbor and the city itself,  if you walk to the other side of the mountain you'll look down and see the bustle on the two huge beaches. If you turn around again you will see the Atlantic ocean in all its glory. This took my breath away.
There is a small restaurant an a nice little cafe on top of the mountain. Enjoy an overpriced coffee while you look down to the two main beaches, Copacabana & Ipanema.
lapa district
This neighborhood is famous for its architecture and nightlife. You can find the wonderful Carioca Aqueduct with its 42 arches, tons of cool street art, graffiti and the famous Escadaria Selarón. The Selarón steps are the work of Jorge Selarón, who dedicated his life to build an amazing colorful piece of art in the middle of Rio de Janeiro. From 1990 till 2013 he decorated the 215 steps. Over 2,000 titles cover the stairway. Locals who live directly next to the steps sell coconuts and ice cream out of their windows. Little overpriced as well but a good way to stay hydrated in the heat of Rio. The place is very crowded as well but definitely something you don't want to miss. You probably wanna go there early in the morning to prevent the mass of tourists.
Nearby you'll find some more cool street art. Graffiti art is a big thing all over south america and so in Rio. You will find gigantic graffiti walls in Lapa, so make sure your camera is fully charged in the morning. You can linger at least a whole day in Lapa so you better make sure you have enough time for all this wonderful corners when planing your trip to Rio.
places you want to avoid in rio...
When you walk up the Selarón steps you'll find yourself in the Centro District. I have to say I never felt unsafe in Rio. There was only one situation in Centro District near Gamboa where I immediately felt that I'm not welcome here. People stare at you with this "You-don't-belong-here" face and you know it's time to leave. Places you definitely want to avoid are Rocinha, Rio's largest favela, where recent drug-related violence has been so severe that the military had to get involved.
It's also wise to steer clear of Vila Mimosa, which is notorious for prostitution, as well as the city's north zone, its favelas, and their neighboring areas including Del Castilho, Cascadura, Bangu, and Pavuna.
...places you want to see as well
The Museum of Tomorrow was constructed to coincide with the mass of tourists flocking into Rio for the 2016 Olympics. It is now Rio's most popular museum, both for its extraordinary architecture and its fascinating interactive displays that focus on sustainability and future possibilities of our planet. The entrance was only about 3 Euro back in 2017 - these are well spend bugs, trust me.
Next you maybe wanna get some souvenirs, some cold drinks or some good food. Markets in Rio are a great occasion to meet locals and to discover the creativity of the Cariocas. Feira Rio Antigo, also located in Lapa, isn't the biggest market in Rio but I loved it there. If I had more space in my backpack I would have bought a shit load of stuff there - highly recommend!
One thing I didn't do and actually hate myself for is, I didn't hike up to Pedra do Telégrafo. You might know this rock from various social media platforms . If I ever come back to Rio, a hike up this hill to overlook the whole beach area is the first thing I'm gonna do.
let's hit the beach
 I can't really explain it - I don't know what it is, but somehow you just feel perfect, sexy, beautiful and you just want to smile all day when you are on the beaches of Rio. The spirit of the locals is just overtaking you. Everyone just feels comfortable with their bodies  and everybody is kind of dancing all day. This must be this samba feeling. I've never seen so much beautiful people (women and men) before. But I think it is not the beauty itself, its kind of the vibe and the constant smiles and the laughers you see all day that make you happy and make you wanna dance and smile too. Brazilians love their bodies, no matter which age or shape and they love to dance. This fact makes the beaches around Rio de Janeiro even more special.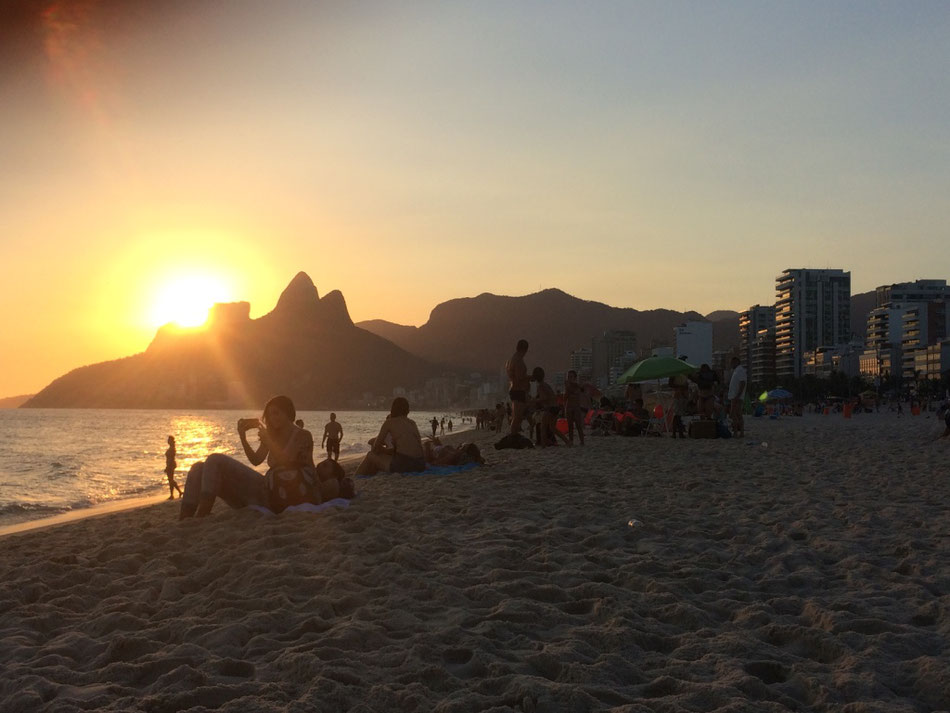 Stroll along the black and white wave motiff promenade of Copacabana and grab a coffee or an ice cold beer before you hit the beach. There are a lot of pickpockets on the beaches. I met a guy who's cellphone, passport, credit card and cash got stolen. So you better be clever and just put on your bathing suit and take small amounts of cash with you when you are heading to Copacabana or Ipanema beach. The prices are cheap, so you won't need a lot of cash anyways. One day I got shitfaced on Copacabana for less than 20 Euro. This guy with his mobile cocktail bar and his awesome 0.7 liter Caipirinhas was killing me. On Copacabana beach you can pretty much eat and drink all day while sitting in your camping chair. Tons of locals offering you the coolest stuff while you watch the waves of the Atlantic Ocean and the beautiful sunset.
For tourists Copacabana is the most popular beach in Rio. Locals prefer Ipanema. I enjoyed both. The crazy crowd on Copacabana and the cool Cariocas playing guitar and dancing on Ipanema beach. You definitely want to do both beaches on two different days.
carnaval do rio
They say the best time to travel to Rio are the month from May to September. Winter on the southern hemisphere. The temperatures are not so crazy in this month. I went to Rio in February, Brazilian summer, hot as hell - but you have one big advantage if you plan your trip in February. The carneval is on its peak season. 
If you think Germans go crazy while carneval, wait till you see Brazil, especially Rio de Janeiro. This was a  10 day out of this world party. I managed to get tickets for the Sambódromo - not easy and for tourists very pricey. I recommend to ask in your hostel or hotel if anyone can arrange tickets for you. I think I paid 150 Euro for a ticket. Trust me worth every penny. A night in the famous Sambódromo is something that will be on your mind forever.
If I remember right, there are two days with huge parades at the Sambódromo da Marquês de Sapucaí. The stadium is a 700 meter long street surrounded by gigantic grandstands. When fully sold out, 88,000 people can enjoy the parade in the stadium. It's always sold out! I managed to get a seat at the very beginning of the parade. They told me that this place might not be the best, but I was just blown away by the love for carneval you feel in this very special place. I had an amazing time there.
12 local Samba-Schools with hundreds of people in every school dance, jump, walk and sing down the 700 meter long stadium and just have the best day of their lives. There's non stop music - the crowd is dancing from 4 pm till 6 am the next morning. One crazy experience, not even pictures can describe. 
5 things you don't wanna miss
Enjoy the view down from Pão de Açúcar
Take a picture with Jesus on Corcovado 
Enjoy the spirit and the good beach vibes on Copacabana and Ipanema beach
Discover the colorful district Lapa
Get infected with the "Samba-Vibe"