It's been years since I have been in the capital of Bavaria, even though it's only a 4 hour drive from my hometown Graz. In 2020, Covid19 ruined my Asia-plans for my summer vacation, so I decided to do a roadtrip around Europe and Munich was my first stop.
Being from Styria/Austria you'll always feel home in Munich. Other country, same mentality: Enjoy life at the fullest. Eat and drink a lot and pretty much all day. And just take it easy. There is pretty much just one difference. Styria has it's wonderful wine culture, Bavaria and especially Munich is all about beer.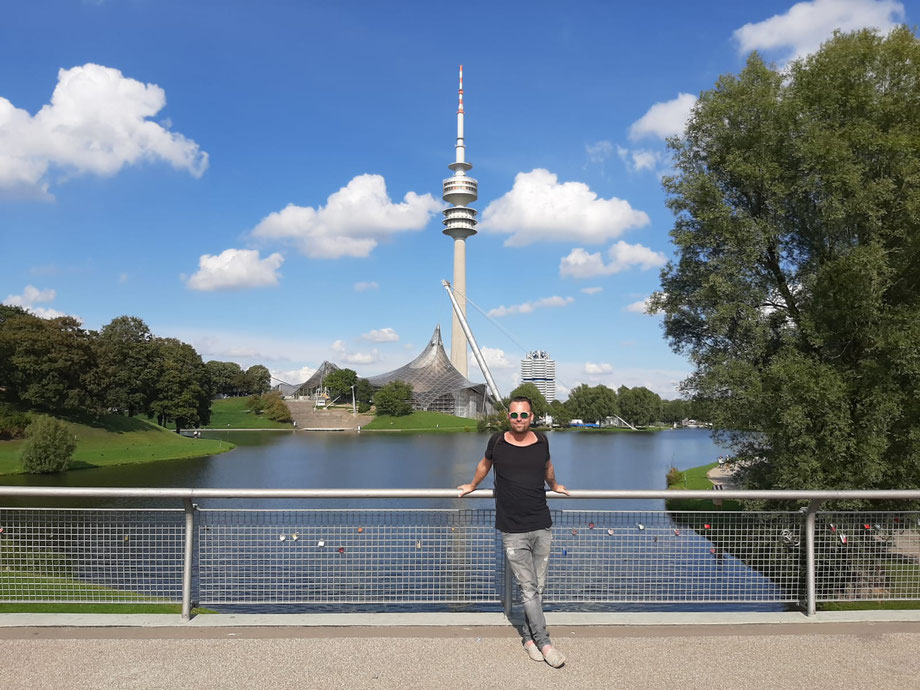 getting  downtown
Since Munich held the olympic games years ago, the public transport system is absolutely great. No matter if you get there by plane, train or car you'll always find a fast way to get downtown. I choose the park 'n ride at the fairy grounds - subway station "Messe Ost". The fee is only 3 Euro per day which is crazy cheap since you'll pay at least 20 Euro a day for a parking spot in the heart of the city. About 40 minutes later I was already unpacking my backpack in my hotel room and was ready to go.
breakfast at viktualienmarkt
My hotel was about 15 minutes walk away from "Viktualienmarkt". The market is actually nothing special but it still got this kind of something and you immediately get the feeling to linger. You'll find a lot of handcraft stuff, some places sell fruits from all over the world and pretty much every place is selling Bavarian Cuisine and beer. People from Munich are obsessed with their beer. If you arrive around 10 am, some of course are still having coffee, but the majority is enjoying an ice cold beer. 
So I snatched a table with a perfect view, I just love to sit somewhere and observe people - sounds a little weird but that's just what I do. I ordered Weißwurst and a Brezn and thought to myself: "Well, coffee might not be the best idea, let's just have a beer."
Later I spent a fortune on some fruits from Indonesia (definitely a tourist trap). I just have to get a "Salak" (the snake fruit) or a "Buah Naga" (the Dragonfruit) everytime I see one of these tasty things, no matter what it takes.
the english garden
If you ever been to New York and spent a day at Central Park, you might remember how big this green oasis is. Well guess what, the "English Garden" in Munich is even bigger! I went to Munich a few years ago and relaxed at the south end of the park for a few hours. This time a spent a whole day there and still didn't see all of it. There is tons of stuff you can do in this huge area.
You probably want to start your day at "Eisbach" which is a side tributary of the main river Isar. Here you find locals surfing artificial waves after their day at work. Grab a coffee and enjoy the ocean feeling right in the heart of the city. If you are not that much into walking all day, there are several bike rentals around the garden. So hop on and explore the rest of the garden. One thing you definitely want to see is the Chinese tower on the southern end. Mind the beer garden right next to it, this is a tourist trap as well! There are several more beer gardens up north, where the prices are high too but affordable. Even though I spent a whole day there, Ionly made it almost half way up the park. Good reason to come back in the near future and explore the rest of the park.
nymphenburg palace
This baroque palace, situated in the western part of Munich, is something special. The place was the favourite summer residence of the rulers of Bavaria. With its huge garden in the back of the main palace this spot is something you want to see when in Munich.
Built in 1664 Nymphenburg is very well preserved. I didn't take the tour inside the palace itself (15 Euro day ticket) but I spent over an hour chilling in the park. I'm pretty sure you will find a place to linger in the area around the castle which covers over 180 hectare of land.
Since you are already a bit outside of the city you might want to check out the Olympia Park next. It took me about 40 minutes walking from Nymphenburg to the huge sport area where the Olympic Games were held in 1972.
olympia park
Located in the Oberwiesenfeld neighborhood of Munich the Olympiapark is again a great spot to linger and enjoy life for a few hours. The artificially designed hilly area around the stadium, which was a venue for huge sport events before the Allianz Arena was build, you'll find a huge lake, several green areas for picknicks, the Olympia Tower (which gives you a wonderful view around Munich) and of course a beer garden. 
Since Munich is the home of BMW, every car lover might take a change to go and see the huge BMW world and the BMW museum, located directly next to the Olympia Park. The showrooms offer a gigantic selection of historic and modern cars made in Munich and other BMW plants all over the world. The museum entrance is free and the 10 Euro they charge you to see the BMW world is quite a fair price. Highly recommended.
take a walking-tour
Munich offers a huge variety of walking tours. You'll definitely find something you are interested in. There are city tours showing crime scenes, historic places and of course breweries.
Since I'm totally  into history, I decided to the "Third Reich Tour". I highly recommend this tour to everyone coming to Munich. The tour was about 20 Euro and is very informative.  Within 3 hours you will not only get a city tour by it self, you will learn a lot about the Nazi-Regime and the sick ideas they had on their minds for their "new world order".  The local guide took the small group to pretty much all the places around Munich that are related to Hitler and his Nazi-Party. How could it be otherwise, that this tour ends at a beer garden at Königsplatz. So you might have little break and enjoy a "Maß Bier".
food and beverages
When people think about Germany, what usually come to their minds are the image of people dressed in traditional dresses holding a beer in one hand and a "Brezn" in the other. Well this might not be true for the whole country but definitely is for Munich and Bavaria.
The Bavarians love their traditions and as mentioned before, the love their beer. They are obsessed with their favourite tipple! I met some older folks, who told me stories about the history of the different breweries, why one brewery is better than the other, how important the clarity of the water is and what is necessary to get on of the coveted spots at the "Wiesn" (Oktoberfest).
The by far most famous brewery in Munich must be the "Hofbräuhaus" at Platzl. That's why this place is always packed with people from all over the world. I spent an evening there, it was kind of cool, especially because there was this one old local, who told me all kind of stories about the Hofbräuhaus and showed me around. Nevertheless, I have to say that this place is too packed for me. I had better times at "Augustinerbräu Stammhaus" and Hacker Pschorr at Viktualienmarkt.
When in Munich, there is no chance not to drink tons of beer. If you order a small beer in Austria, you'll get 0.33 liters, if you order a small glass in Munich they hand you a 0.5 liter beer. Prices are pretty much the same - this is heaven ! Usually you enjoy your beer with some Weißwurst, a Brezn or a so called "Obatzda" (a mixture of Camembert, paprika powder, salt and pepper). If you are really hungry you might want to order a "Schweinsbraten" (German pork roast served with bread dumplings or potato dumplings.) One thing's for sure, if you leave Munich, your body scale at home will have a not so pleasant surprise for you.
5 things you don't wanna miss