It was my first trip to Africa, even if they say South Africa is not the real Africa, I was still stunned by the things I found way down south. Anyways I think it is a good start to get to know this huge continent. Later I been to Zambia and Simbabwe which I would say is pretty much how you would expect "the real Africa" but let's start down at the cape.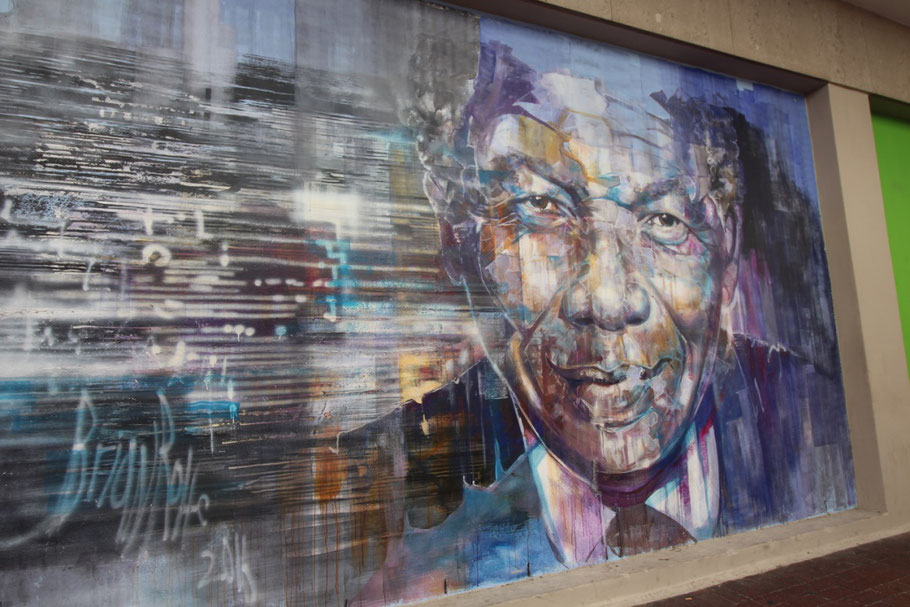 exploring the cape
I arrived in December, a perfect month to travel this wonderful country. Cape Town is something special. I stayed in Green Point, in a wonderful hotel called Altona Lodge. The hosts Peter and Greg are gorgeous, helpful and love to drink wine. Perfect start for a new adventure.
Beside table mountain, which gives you a crazy view all over Cape Town up on a thousand meters, there is so much you can do in this city. I started with a hop-on-hop-off tour. There is no need for a reservation, just find one of the hop-on-hop-off bus stops and buy tickets there. The tour is taking you up to the vinyards, around table mountain, down to the wonderful beaches and to the water front. There are several beaches you definitely should spend some time when in Cape Town. I liked Camps Bay, Sandy Bay and Clifton a lot. You'll see tourists and local business women and men having lunch breaks while enjoying the view on the Atlantic ocean.
the malay quarter
Bo Kaap next to Signal Hill is a place you don't wanna miss in Cape Town. I did a free walking tour with a local guy. You'll find free walking tours to pretty much every area on the cape at Long Street. It's always nice to have someone who was born and raised in a town, showing you around. Bo Kaap is a paradise for photographers. Colors everywhere. No need for further words, here are some pictures.
hiking up table mountain
If you are staying a little outside of town I recommend taking a, as South Africans call them, "Black Taxi". It's not a regular taxi, it's kind of a small bus with tons of people in there. Just raise your hand on the side of the road and they will stop to pick you up. If you want to get off, just say "stop" and the driver will stop immediately, even on the highway. Crazy experience!
There is a funicular called "the Flying Dutchman" going up Table mountain at Simons Town. For about 300 South African Rand (about 20 Euro) you can enjoy the view from the cabin. I did Table mountain twice. The second time I took the Flying Dutchman, a few days earlier I hiked up Platteklip Gorge. Platteklip Gorge is one of the most popular ways up on the huge landmark and as I heard one of the easiest ways to the plateau. Cape Town is always windy but this day was crazy. I really had problems going up there, fighting the wind just to find out that my plan, taking "the Flying Dutchman" down again, would not work out because of the wind. On days with heavy winds they stop operating the funicular. 
The view you get on top of Table mountain is priceless. The plateau is a huge area and it gives you the chance to see all of the Cape. The soccer stadium (built for the world cup in 2010), Lions Head, the Waterfront and tons of beautiful beaches. Have a seat, enjoy the view and watch marmots enjoying the sun.
robben island
Nelson Mandela was President of South Africa from 1994 till 1999. Before his presidency he spent 27 years in prison. Most of this time on a little island called Robben Island not far from Cape Town. 
You can get tickets at the Robben Island Museum at Victoria & Alfred Waterfront. The fee is about 500 South African Rand for the Museum and the ferry ticket. Arriving on Robben Island gives you a weird feeling right away. A lot of history and especially a lot of crime against humanity happened here. You will feel it when you leave the ferry. An old man and former inmate will show you around on the island. He was there, when Mandela was held in prison and tells a lot of heartbreaking stories. It must have been a torture for every prisoner to know that you are stuck on this island while you look at the cape and see the wonderful Atlantic Ocean smashing against the huge stones that surround Robben Island.
back in town
Back in town I spent a lot of time at Victoria & Alfred Waterfront. Kind of the main square of Cape Town. Street musicians, crazy good food, a view on table mountain and people from all over the world make this square special. A place you don't wanna miss when in Cape Town. I recommend to have lunch or dinner at the V&A food market. A hall filled with street-food restaurants. Mexican, Italian, Chinese, Thai or African food. You name it - V&A food market has it.
Beside V&A Waterfront, Long Street is the place to be. The victorian buildings with their wrought iron balconies take you back in time. There are several restaurants, hostels and bars where you can enjoy South African and international food. Take some time to explore the Long-Street-Market too, to find your perfect souvenir from Cape Town. Calculat a few hours for this special street, you will not regret it!
If you have enough of all the big city life, I recommend a day in Kirstenbosch. The huge botanic garden outside of Cape Town. With its 500 hectares this garden at the eastern foot of Table Mountain is a calm oasis. The entrance fee was 40 Rand (about 3 Euro). Grab some food, a blanket and give your feet a break from running around all day. 
5 things you don't wanna miss
Hike up Table Mountain and Lions Head
Visit the prison of Nelson Mandela at Robben Island
Have a lunch break at V&A Waterfront
Explore Bo Kaap, the beaches and the vinyards outside of Cape Town
Get on a hop-on-hop-off tour to get to know the whole city