Vienna is only 2 hours away from my hometown. Bratislava another hour by car, still it took me 33 years to finally visit this beautiful city in Slovakia. There is a lot to see, in this small town and because of the crazy cheap prices it is a pretty popular destination for a lot of backpackers. Every city build next to a river has something special for me and so did Bratislava. There is a lot to do on the shore of the Danube. Castles, churches and a lot of crazy people...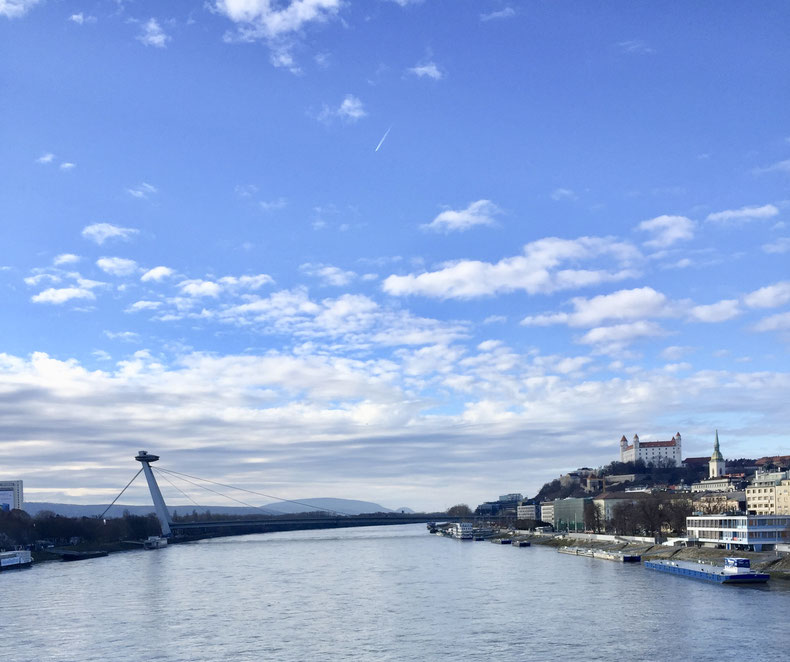 what you have to see...
If you check Bratislava on google you will mostly find articles about the huge castle and the UFO bridge. What I like most about visiting new city is, that I just walk out of my hostel/hotel and just keep walking. The old town is packed with tourists even when it's freezing cold like it was in December when I was there. I would definitely recommend walking away from the old town - down to Stary Most (the old bridge). In this area you find a lot of good restaurants, quite walks on the shore of the Danube and some cool photo-spots. You can also find Kostol svätej Alzbety (the blue church) in this part of the town. One of my favorite buildings I saw in Bratislava.
Walk through some beautiful old streets back to the old town to find Cumil (a weird guy who is a sewer cover) one of the main attractions. Take some time because there are a lot of crazy Instagramers who need ages to take there perfect picture.
When you're done with Cumil - walk to the main square. In the summer time there is a beautiful big market where you can buy local art and a lot of food. In time of new years eve they use it sell mulled wine. Definitely a spot you don't wanna miss on your trip to Bratislava.
If you planing on visiting the castle of Bratislava, make sure to use Zamocka-Street on your way up. In this street you'll find some nice little bars and cafes. Once you're up at the castle you'll get a stunning view over the whole city. Even if it is the most tourist-thing to go up there, I have to say it was one of my favorites. 
One thing you don't wanna miss, is a walk from the old town over the "Ufo Bridge". You'll find tons of seagulls flying around searching for tourist feeding them. Once you made it over the bridge you can relax at Sad Janka Krala Park with another view over to the city. 
5 things you don't wanna miss