After my trip to Machu Picchu, I only had time for one more adventure in Peru. I was torn between the wonderful Mt. Vinicunca also known as the "Rainbow Mountains" and Lake Titicaca.  Since I had problems with the height, the whole time i was in Peru, I decided to go to Puno which is on an elevation level of 4,000 meters. I was a bit scared to get sick up on 5,200 meters at Vinicunca. So I jumped on a bus in Cusco for a 6 hour trip to the border of Bolivia.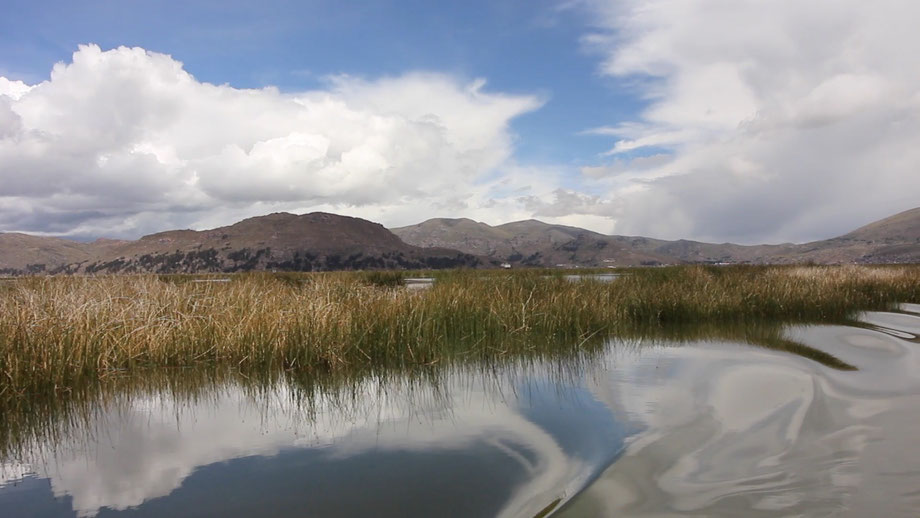 puno
I'm gonna be honest with you, Puno is not a place where you want to spend the rest of your life. The city is full of smog, as if it wasn't hard enough to breath anyway on 4,000 meters. When I arrived, I immediately decided to just stay for 2 nights and go back to Cusco as soon as possible. I stayed in a small little place in the middle of town. It seams like the whole city is living from tourists, visiting the highest commercially navigable lake in the world. The prices in the hostels and hotels are similar to the rest of Peru, pretty affordable. You don't really have to look for tours, already at the bus station there are tons of tourist guides who want to take you around town and to the lake. Most of the accommodations offer a tour deal within the room price. Even though the city is not the nicest place you've ever seen, the people are super friendly and helpful. They organize everything for you and you can just sit back and have a wonderful time.
lake titicaca
This lake is huge! 190 kilometres in length and over 80 kilometres  wide. The border between Peru and Bolivia runs directly throw it, so you can actually enter a different country while you relax on a boat.  What makes this lake so special is, that its elevation level is almost at 4,000 meters. To make this even more crazy, there are 1,200 people living on the lake. Yes, I said on the lake! And that's where you want to go, when you are in Puno. 
If I remember right, there are 3 types of tours offered at Puerto de Puno. A half day boat trip to the islands where you spend all the time on the boat, a full day trip to visit the Urus on their islands and a two day trip with an overnight stay on an island.
I decided to take a full day trip, which was about 8 to 10 Euro. The pick up from your accommodation is included as well as the boat trip onto Lake Titicaca, a small lunch box, the entrance fee to the islands and a separate trip with an hand made ship of the Urus.
visiting the urus
The Urus, or Uru people, are an indigenous kind of tribe and have been living on the lake for hundreds of years. There are over 120 small man made islands on Lake Titicaca, all made of totora reed. Whole cities made of reed. I've seen sport grounds, houses, schools, churches, supermarkets, boats and even ships made of this plant. You name it, they have it, made out of reed. This is just crazy. 
It's a weird feeling to set foot on the reef island the first time. Your body is like: "What is going on? Why are we walking on water?"
When arriving there are some Uru women welcoming you with a song. I loved the colorful handmade cloth they were wearing, all the inhabitants were super nice. I know what you are thinking right now: "Of course they were nice and friendly, you brought them money!" True on one hand but on the other hand pretty much all the people I met in South America were super friendly and I always felt welcome. 
First you get to know Uru tribe. They show you around the island, show you their hand made crafts they are selling to buy food on the main land. Some of them also barter, eggs and ducks they find on the lake for rice back in Puno. Of course there is no flowing water, some of the houses have solar panels, fire didn't really worked out since all the islands are made of reed, Johnny told me while he was laughing and showing me around in his small house. He is a proud owner of solar panel and even a TV. It's kind of weird to know, that you are actually walking on a lake while the premier league is on the TV. 
Next an older Uru is showing the visitors how the islets are build. The base is made of large pallets of floating totora roots, which are tied together with ropes and covered in multiple layers of totora reeds. The plants form a natural layer called Khili, about one to two meters thick, which are the main flotation and stability devices of the islands. While the older Uru is explaining the work they, the women of the tribe hand you reed as a little snack. They call it "the Titicaca-Banana". Actually tasted pretty good, but good. Later that day I went to another island. I took a ship, totally made out of reed, to get to the supermarket of the Urus. There they sell all kind of groceries they get from the main land or the lake is offering them. This trip was definitely an adventure.
Like I said before, even if the city of Puno itself is not a place where you want to be, Lake Titicaca is something you have to see once in your lifetime and should be on you bucket list when visiting wonderful Peru.
5 things you don't wanna miss
Stroll around in Puno and get some souvenirs at the local markets
Enjoy the hospitality of the Peruvian people around Lake Titicaca
Have a once in your lifetime experience by visiting the highest commercially navigable lake in the world
Visit the Uru people on their islands on Lake Titicaca
Try "the Titicaca-Banana"